In today's episode of Style Soul Podcast, it's time to get your creativity & fertility on with Feng Shui!

Do you feel with the hustle and bustle of everyday life your creativity is zapped?
Seems were so programmed to a schedule that the room for creative inspiration just feels NULL!
I'm happy that being an Artist and Stylist, I incorporate creativity in my life everyday. It makes me feel present to my surroundings, my work and my family.
Seems we want to perfect our craft and hobby but we feel who has the time?
Wouldn't it be great if there was a space in our home that can HELP us CREATE that time and opportunity to do so?
Well, my friend, AWESOME news for you. There is! It's the Children/Creativity area of our space.
This is THE area to beef up energetically to create fun and creativity for your kids as well as yourself. If you have children, this is the area to put symbols of their passions, dreams and hobbies. Plus energize your fertility!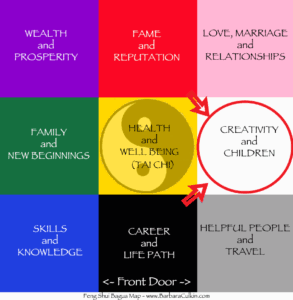 Don't forget about YOU. Being a mom, I get this. We get so caught up in our kids and schedule that we put ourselves on the backburner!
What about YOU? What are your passions and hobbies? Lets get this area creatively inspired for you too so you can have the time and opportunity to CREATE those precious things that make your heart sing- ahhhh!
COOL news too! If you want to have a baby .this is the AREA to amplify to help you make that happen.
The creativity and children area is the area for fertility. Pretty awesome!
There are symbols and power colors in Feng Shui to help you with this dear request.
Listen in and get the scoop on it.
You will discover:
The Feng Shui power colors to decorate and dress with to increase your fertility if you want to have a baby.
POWERFUL décor items and symbols to place in this area to increase your family.
A potent décor tip jumpstart your creativity if you've been feeling blocked or stuck.
Easy DIY Feng Shui décor tips to create and abundance of creative opportunities and feel creatively inspired.
Awesome Resources to help you creatively Feng Shui your space: 
Thanks for listening & lets unleash your creativity and fertility with Feng Shui!
To get more Style Soul Podcast content sent directly to your device as they become available, you can subscribe on iTunes or Stitcher.
Also, reviews on iTunes are extremely helpful and greatly appreciated! I read each and every one of them and feel free to share your URL there so I can contact you later on and say thanks!
How do feel after creatively enhancing this area in your space? What creative hobby do you want to make the time for? Tell me about it! Share your comments below. I'd love to hear from you!
Feel fabulous, look stylish and live beautifully!
To your Creative Style,