In today's episode of Style Soul Podcast, it's time to style for success.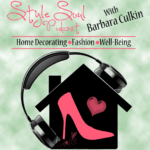 If you feel you're ready to attract success and opportunities, this episode is for you!
It has been proven that what surrounds you, inspires and motivates you.  Did you know  your décor is a MAJOR surrounding influence on your state of mind and creativity? Yep- it sure is!  This is how we style with intention everyday.
When we are in our element, doing the work we love, success is manifested into form in our lives.
Creativity is naturally set loose in our lives and magic seems to happen wherever we go.
Why is that?
Because we are in the zone –in our natural state, where our REAL, true, authentic selves shine thru.
When we surround ourselves with what we love and INTENTIONALLY design our space aligned with our goals, success can't help but be attracted to us!
Today, I have a very special guest on Style Soul Podcast.
His name is Mike Iamele. He is a Writer, Herbalist, & Wellness Coach. He's also the author of the book "Enough Already: Create Success on Your Own Terms," which will come out this Spring.
Today we will be chatting on ways to set up your space and your life for success. Mike will also be sharing his knowledge and expertise on his 'personalized teas' he uses in his practice.
Sounds cool, right ;)!?  Tune in and get the scoop.
Thanks for listening & Get Ready to Attract Success into your life!
To get more Style Soul Podcast content sent directly to your device as they become available, you can subscribe on iTunes or Stitcher .
Also, reviews on iTunes are extremely helpful and greatly appreciated! I read each and every one of them and feel free to share your URL there so I can contact you later on and say thanks!
Do you feel your home is aligned with success? Are you ready to make BIG shifts in your life? Tell me about it! Share your comments below. I'd love to hear from you!
Feel fabulous, look stylish and live beautifully!
To your Successful Style,