In today's episode of Style Soul Podcast, color your world with good fortune!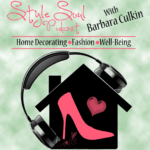 The Fall season is here in full swing and the Autumn equinox which occurred this week is such a POWERFUL time to set your intentions. I feel there is something about the Fall season that has a feel of magic in the air. It's an ideal time to conjure up your heartfelt dreams and make them real.
The cool thing is, I have an awesome secret to share with you. There is a particular color that is extremely powerful during the Fall season that practically DRAWS success, goodies and opportunities to you – if you play your cards right!
Meaning- dressing and decorating with THIS particular color magnetizes good fortune your way.
I know we all want some more of that, right?
When you Style With Intention, we focus on mindfully decorating, dressing and living with PURPOSE to attract what you want into your life.
Plus there's a particular area of your home that actually helps you do that. There is an area of your home that can help you enhance your reputation, recognition for your efforts and help you become more 'known'.
It's also super important to ENERGETICALLY enhance this area when starting a new endeavor of any kind and wanting to make a name for yourself.
This also does for your wardrobe. By THIS color in your outfits and incorporating it in your wardrobe, you are INTENTIONALLY calling forth what you want. And magnetize good fortune.
Awesome Resources to help you Magnetize Good Fortune This Fall:

Dakotah Pillow Set, Hockley, Mandarin, Set of 2

Plum Feathers Elegant Solid Color Infinity Loop Jersey Scarf (Rust)

Ornate Royal Picture Photo Frames Size 13×18 (Orange)

4 Sets of 3 Orange Beaded Stretch Bracelets, Outrageous Orange Beaded Stretch Bracelet, SB-158,159,263,304

Landisun Paisley Mens Silk Tie Set: Necktie+Hanky+Cufflinks 44G Bright Orange, 3.75″Wx59″L
Thanks for listening & let's create some Good Fortune This Fall Season!
To get more Style Soul Podcast content sent directly to your device as they become available, you can subscribe on iTunes or Stitcher.
Also, reviews on iTunes are extremely helpful and greatly appreciated! I read each and every one of them and feel free to share your URL there so I can contact you later on and say thanks!
What do you want to manifest this Fall? Which one of these will you try? Try these tips to magnetize good fortune this Fall and tell me about it! Share your comments below. I'd love to hear from you!
Feel fabulous, look stylish and live beautifully!
To your Autumn Style,