Spring is in the air and decorating for it gives off a Spring fever vibe. So whether you're hosting the Easter holiday at your home, at the beach, or just decorating with Easter décor, why not have it look stylishly seasonal as well as work in your favor too?
Easter is the time of renewal, re-birth, growth and life. The world is in bloom and by enhancing your home for this Easter holiday and Spring season, you're creating a powerful energetic vortex to bring your heart's desire to you. Pretty cool, right?!
Here are 3 of my favorite top easy Easter decor ideas to create a beachy vibe and enhance your space for a blissful Easter:
1) Bring on the Green!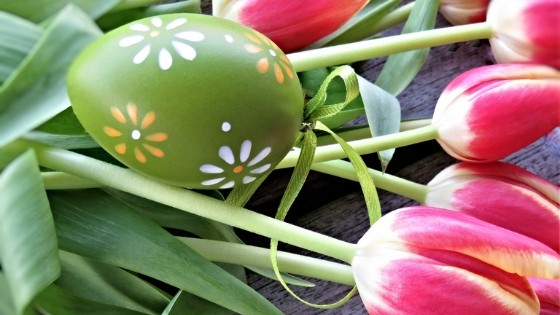 Green is the ideal color to use with your easy Easter décor. The color green symbolizes new beginnings. It's also the color of balance, growth and harmony.
Incorporate shades of green into your color scheme with your décor, when setting the table and of course your Easter eggs!
You can easily do this by picking a green tablecloth and napkins with festive Easter napkin rings at your Easter brunch or dinner. Enhance with Easter plants and flowers for an extra special refreshing touch of green!
By decorating with the color green in your home, it stirs up the lucky Easter energy.
2) Tabletop Easy Easter Decor

If you're hosting Easter brunch or dinner, of course, you'll be serving yummy food at your celebration. A chic tablescape will make quite an Easter impression! Brighten up the table with Spring splash of color with a beautiful arrangement of tulips in a vase tied with an elegant ribbon. To tie in a hint of coastal and beachy inspiration, place little seashells around the table .
Add in some bunny and Easter egg tabletop décors such as plates, glassware and serving bowls. For a touch of creative fun, use novelty items such as bunny napkin holders, place card holders, wine charms and bunny-shaped salt and pepper shakers.
3) Create an Impressive Beachy Centerpiece


One of my favorite ways decorate for Easter is to of course add in some beachy fun and coastal touches. Whether you're entertaining in an elegant or relaxed way, this beauty will be sure to make a coastal statement!
Here's an idea- fill empty glass vases with seashells and colorful Easter eggs décor. Yes- its that simple! This makes a stylish, coastal and easy Easter décor piece. If you'd like, you can add in an LED candle for a laminated look.
Being a mama, I know that my kids like to be a part of everything. And they too would like a décor piece at their kids table for Easter. So, for them, I simply use a clear heavy duty plastic vase and fill with seashells and colorful kids eggs. Or you can put artificial painted Easter eggs in a décor nest basket.
Both are quite the 'eggcellent' Easter tabletop hit with the kids!
By creating a festive Spring ambiance and beachy Easter mood, you'll create an unforgettable impression and fill your guests with blissful creative inspiration and possibilities!